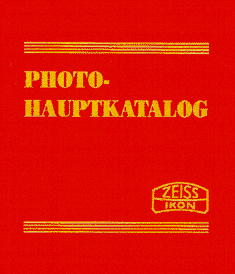 1938 Zeiss-Ikon Hauptkatalog
(auf Deutsch - in German)
Larry Gubas spent twenty years searching for this catalog. Now he's found it, it's available (as a quality reproduction) to anyone interested in learning more about the photographic products manufactured by Zeiss-Ikon as of 1938. Products covered in this 167-page catalog include:
The Baby Box, Erabox, and Box-Tengor box cameras
The Bob, Nettar and Ikonta folding cameras
The Super Ikonta rangefinder folding cameras
The Ikoflex II and III twin-lens reflex roll-film cameras
The Maximar, Trona, Ideal and Universal-Juwel plate cameras
The Super Nettel I and II
The Nettax
The Contax I, II and III
The (twin-lens) Contaflex
The MOVIKON 16, MOVIKON-K 16, and MOVIKON 8 movie cameras
Contax lenses and accessories
Enlargers
Copy stands
The Flektoskop and microscope adapters
Still and Movie Projectors
Cases, film, viewfinders, tripods, flash units
Darkroom accessories,
And even a mechanical calculating machine.

PRICES:
$35.00 (US) in the United States of America


$45.00 (CA) in Canada


$38.00 (US) elsewhere.
All prices include postage.


Order From:
Other Stuff of interest to Zeiss Folks:
Article (in Adobe Acrobat PDF format) on Zeiss Contaprox I (50/3.5 Tessar in Contax (rf) 'macro' mount - 135k). Article originally published in Shutterbug, June 1994.
Copyright Notice: The contents of the above portable document format file (or printed version thereof) are copyright Harold M. Merklinger of Halifax, Nova Scotia, Canada. With appropriate attribution, either to "Harold M. Merklinger" or to "http://fox.nstn.ca/~hmmerk/", personal or not-for-profit use may be made of these materials. That is, providing individuals or organizations acknowledge the source of the information and do not charge for its use or distribution, they may copy and use the materials provided. Without the express permission of the author, the material may not be used in or included with printed or formatted-for-computer records offered for sale. Individual photographers, professional or amateur, are free to make personal use of this information in their work. Information on how to contact the author is provided at How to get these books.
Return to Recent Additions.

Return To Merklinger's Photo Books Table of Contents.

Return to Camera Collecting page.